In the past few weeks I've been testing a bunch of software packages for rank checking. It's a cornerstone of an SEO's arsenal of tools, and there's a number of them out there.
But which is the best? After all, whilst it isn't the most important metric for an SEO campaign, it is one of the most important and one that many SEO workers are judged on. Knowing the ranking of sites as well can help you spot new opportunities. I decided to test a few of the most popular – SEOBook's Rank Checker, Link Assistant's Rank Tracker, SEOMoz's Rank Checking Tool & Advanced Web Ranking.
To test this – I tested over 300 keywords over a number of sites, comparing with their original manual ranking.
Test Data
I have tested this data on 360 of keywords split over 22 sites.
This data was collated over two days. Although each ranking is checked on the same day (so for example "Keyword 1" was tested using the four packages on the same day). If any other keyword ranking tools are added at a later date, I'll do a manual check, followed by testing the tool.
The results will be split into two fields. The first is the pencentage accuracy of the reported rank compared to the actual rank checked (which was checked on Google UK straight after with personalised web search disabled). The second test was on average how close was the ranking to the actual ranking.
The test was done on Google UK for UK keywords.
The results tested the top 100 rankings. If the keyword is reported to be missing from the top 100 placing it will be marked as 101.
I also checked the time it took to do the check on a standard broadband connection. Two of the tools (Rank Tracker & Advanced Web Ranking) do note the time taken to generate the report. Of those tools that don't give a timescale I used a stopwatch. Not horrendously accurate but it does give an indication.
Results
Accuracy of Rank Reported
95%
88%
86%
96%
Average Difference Between Rank Check & Actual Result
0.20
6.15
1.77
0.19
Time Taken to Check 10 Keywords
0:02
1:08
5:17
0:33
Price
$99.75 / $249.75
(Year)
Free
$99-$599
(Year)
$99 – $2000 (Month)
Free Trial
Feature Limited
N/A
30 Days
30 Days
System
Windows, Mac & Linux
Firefox Based
Windows, Mac & Liniux
Web Based
Website Link
Click Here
Click Here
Click Here
Click Here
Explanation For Inaccuracies
One thing I noticed throughout the report was the innacuracies of 1 or 2 on page 1 rankings. After doing a bit of research, I found out why. Imagine if I was the SEO for allwwewrestlers.com & wanted to check my rankings for "Hacksaw Jim Duggan".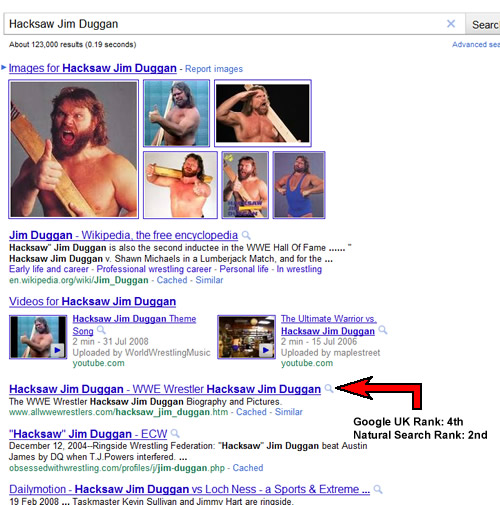 As you can see, although we have the Image & Videos in the search results, the natural search rankings are showing up as second. These image/videos/places/shopping etc. result change all the time, so I can imagine that SEOMoz probably spends time & the resources including them in the rank checking algorithm, whilst Link Assistant's Rank Tracker doesn't. Please don't hold me to this, as I don't know.
Other Thoughts
SEOMoz's tool was the most accurate tool.
Easily the fastest at doing the searches was Rank Tracker.
Advanced Web Ranking did only check the top 50 rankings by default. I'm pretty sure you can test more but I can only found out how to set it by the top 50 rankings. With that said, it's by far the slowest check so you may want to leave it at 50 checks.
Rank Tracker can only test upto 60 keywords in a project. There can be inaccuracies at times when you check a number of rankings over a period of time.
Rank Tracker can only check one domain at a time.
SEO Book's Rank Checker is the least secure, as you cannot backup your data generated (bar a CSV spreadsheet).
Conclusion
In paying for SEOMoz just for the Rank Checker it's like paying for a Manchester United season ticket just for the Wolverhampton Wanderers game. In the $99.95/month you get a lot of other tools to help you market your site. If you're serious on SEO, then it's the best package.
For everybody else, I did prefer Rank Tracker. It was quick and easy to check rankings, accurate and reasonably priced. It struggles when you run a lot of checks, and useless if you want to compare rankings accross multiple domains. Update: Rank Tracker has seemingly been having problems recently. I've had misreported rankings. As a result, I can't really recommend Rank Tracker at the moment.
Advanced Web Ranking is great as a comparison tool. By default, it only handles the top 50 results but this can be increased, but if you want to compare keyword rankings over times across multiple domains, it's probably the best. However, it is very slow.
Where To Get Each Rank Checking Tool
For each of the products on here, you can get them from the following places.
Comments?
Comments will be permantly open on this entry, please leave your thoughts on any of these tools below.
Have Your Own Rank Checking Tool?
If you have your own rank checking tool, please contact me. I'd happily run a few tests & add it to the list above!